The day had to come when it would be my turn to invent and to drive the church's Powerpoint slide show. That day was yesterday, and I am still not happy about how it went largely because I am not happy about the projector's appearance in the sanctuary in the first place.
The church needs to be grounded. Let it be grounded in contemplation, let it be in action (and you thought I hadn't read H.A.)—either has deep root in Christian traditions—but grounded nonetheless. I have come to recognize groundedness in two ways. First, it comes in a conscious awareness that tradition, as it has been known and unknown, identified, demarcated, diminished, and revived these 2,000 since the Christ, matters. How it matters will be as various as the days, but history must inform, history must instruct, history must lend weight to our actions. To forget how the Reformation spawned a theology of the eucharist is to lean on the same doctrinal crutches the Catholics used to define the body and the blood and to lend ourselves to the same ridicule they were subject to when soon-to-be martyrs were dragged before councils to spit, "Can the host be moldy?" Not to know tradition is to be trapped in it, to be used by it, never to discover that it holds no knowledge of the ineffable God in itself. Tradition cannot be stepped outside of, but its workings can be learned, its gears and levers pried loose. The goal of becoming grounded in tradition is to learn to drive it so that it doesn't drive us. To say as much is to show my Protestant colors, I know, and I also know it is to do so at the expense of my Restoration flag. So be it.
Second, the church must understand its means of communication. Even as the church's music has transformed in time, the church has neverthless for milennia clung to a belief that music is one characteristic of its voice. Likewise prayers, sermons, books. The church cannot ask every practitioner of the church's forms to be as thoughtful as Bach or as persuasive as St. Paul, but it can expect its practitioners to respect its modes. The church can teach its people to contemplate, to listen, to read. The problem with slide shows is the problem of technology, in that a good lot of the message that one gets from it is technology itself. It's one reason why the church hasn't yet incorporated television into itself. Religious broadcasters, who rake in a lot of money through their cable networks, and CC-TV in sanctuaries have only succeeded so far in transmitting older forms (revivals and sermons, respectively) from cameras. Such transmissions are intended to be transparent windows into older communications. They are not; however, they are also not as opaque as later digital forms. My contention is that the church, which testifies to the powers of old media all time, must be skeptical of new media for the very fact that it is powerful. It is easy to worship images as than God, or, for example, to believe in the power of image to communicate symbol. Image is no less complex communication than music or language, and the church is grounded when it understands the significance of all its communication and treats communication itself with the seriousness it deserves.
Grounded does not describe the use of Powerpoint slide shows in my church—not yet, anyway, and I doubt that it ever will represent Powerpoint's use there, for reasons that are structural in the Church of Christ (mistrust of history and of art being most relevant) and in my church in particular.1
On top of that, song leading was more difficult because I could not read ahead. And the man who loves the Powerpoint projector most did not like the slides I made; he substituted and added others of his own choosing, including this scene from Brokeback Mountain visual realization of a metaphor, which K describes as like Purgatory: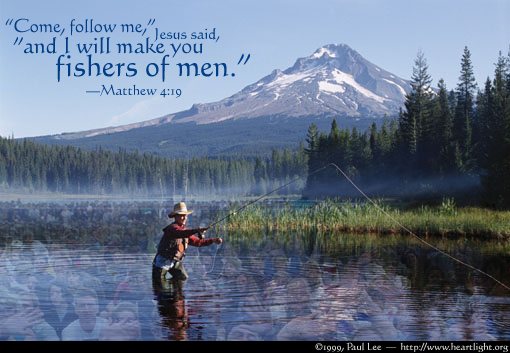 1 JAW in comments recommends "PowerPointless," by Debra Dean Murphy for the Christian Century. It's worth pinning here.
Comments