My previous post on Augustine was hurried, and for that reason it's imprecise, but this is what I was aiming toward by writing it: the character of Augustine's conversion is unique, and the nature of his discovery of God is wholly unlike what you or I have ever known. The Western ontologic tradition is ours and has been for millenia, in part because of Augustine himself. Moreover, it has now covered the whole of this earth. As much as other societies have tried to keep it at bay, its force through economics via both capitalism and communism (each of the same kind), through the reach of philosophy, through the incredible shortening of the time it takes to get from one end of the earth to the other, the tradition is global. What I am about to say is not meant to be cryptic, but it's the nature of ontology: We are who we are.
To say this is significant because, dear Christian readers, none of us converted, if we converted at all, to Christianity in the way Augustine did. We did not turn to it and by so turning join a wholly new philosophic/theologic tradition. And it is very unlikely, dear unChristian readers, that you, whether you abandoned your Christianity or whether you never had it to begin with, that your understanding of self is significantly other than we Christians' understanding of self. Surely there are exceptions, but primarily, Christian conversion of most sorts today is unlike Augustine's because it is made from within an ontologic tradition. His conversion is dramatic because it represents such a complete shift of self. It is also dramatic because it represents the culmination of a lifelong search for a suitable cosmology. To recognize God as truth justified, he had to conceptualize transcendence, which is a remarkable thought, for him tantamount to breaking free the chains and stumbling out of the cave after seeing so many shadows all his life—though of course, shadows were oh so solid then.
Augustine's philosophic conversion is shared by his friends. Alypius, for example, turns to God concurrent with Augustine, and he does so through reason and through a parallel encounter with the letters of St. Paul. His other friends, too, meet God similarly save for the man who was married and couldn't become a priest because of it. Indeed, there's so much intellectual converting that you'd almost think this were the way all conversions happen—if not for Monica.
Monica's an intriguing figure. Among all the Confession's characters, she is the only one who does not come to God via a book (I almost said via study, but the monks who read St. Anthony didn't study the text so much as be convicted by it); she likewise is the only one who receives direct revelation via dreams. Given how thoroughly textualized Augustine's theology is, then, it's remarkable that he leaves unremarked, unjudged the theophany she receives. Instead, he records the particular marker's of God's revelations to her as evidence of God's presence. "She used to say," he reports, "that she could tell the difference between your revelations and her own mere dreams by a certain odor indescribable in words" (VI.vi.23). Monica's smelly dreams reveal to her God's plans for Augustine's life—this in spite of the fact that Augustine disavows all methods of predicting the future (VII.iii.8). (It seems that Augustine's disavowal of astrology in this case is a disavowal of a method of telling the future, in particular a specific brand of heretical action: no science of any sort can do what God can.)
What's frustrating to me is that I can't tell what sort of revelation Monica's revelation represents to Augustine. I can see three possibilities. The first two possibilites, so related as to be virtually the same, are class and education: Monica gets to have dreams by God because she is of a lower class than Augustine, or because she is less educated than he is—while I'm not certain of her class (or of class relations in imperial Rome in general, for that matter) she definitely hadn't the interaction with codexes that Augustine had. She was no philosopher; she was no rhetorician. The third possibility is that she was a woman. Does her revelation represent a relationship with God that is peculiar to Roman—or African? early Christian?—concepts of gender? From what realm does Monica gain something not even Augustine claims as his own?
I ask because I find her so singular. Certainly Augustine constructed her, as a literary figure, in the guise of the Lukan Elizabeth, although where Elizabeth is every bit the classic trope of the barren womb, Monica is that of the pining, faithful mother (like Timothy's mother & grandmother, even). But even beyond that, why does she, particularly she as woman know God in a way that no man in The Confessions does? Even the lower class men, the monks who read St. Anthony (VII), still meet God by the Word. Monica, however, is ever faithful, pouring libations to the saints, without ever needing a book (even in the face of all the many slaves who dislike her). Who, pray tell, was St. Monica, and why is she such an anomaly in The Confessions of St. Augustine?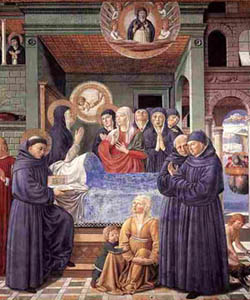 Comments