So, I sent out 7 apps and garnered 5 interviews. Which, I must say, is not too shabby. Especially since one of the places that did not call was hiring for someone who works 3 centuries removed from my field of specialty… not that I couldn't've done a bang up job for them, as I've taught some really interesting courses on the 20th and 21st century, but I knew that it would be a long shot sending it in, and I don't doubt that they received upwards of 300-400 apps, and in that deluge, who's gonna take the time to spend time with a fuddy-duddy Colonialist? The other one, which I really would've liked, I hear is a messy, messy department filled with over-important divas. I've been told that it's not a bad thing that they didn't call me.
My first interview happened over the phone and immediately following a church board meeting, at which I spoke, because it seemed like we were headed for a split and the deposition of the Chairperson of the Board (and this at the first meeting of our interim Senior Pastor, and this coup headed up by persons who had told the ISP that we were a healthy congregation sans factions). It sucked like century-egg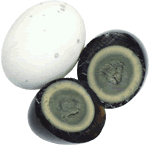 (I am told that they are quite tasty, if you can stomach the smell and appearance.) My two worst tendencies came out: aimless rambling and confessionalism. They will not be calling, of this I am quite sure. If my poor responses didn't get them, then my making it quite clear that we would only go if they paid me well did—and my C.V. is such that I am not yet worth that much money (once the book and the edited volumes materialize, maybe). But, I do have one thing to tell them… come on, give up your CoC sectarianism and go to the grand ball… really, you don't have a few thousand dollars you can spend to meet people in person? Sure, sure the big dance is little more than a meat market and what not, but I doubt your not going is because of pseudo-ethical questions…
The first real interview went really well. The people were very kind and very intelligent. And, I can see myself being rather happy there, though it is quite pastoral… it has a 10,000 acre plot of land in the Volunteer State. At one point, after telling them about my history and conspiracy in the contemporary novel course and my 20th century Latin American essay course, I said, I don't guess I'm doing a good job of selling myself as a colonialist, to which they responded… no, this is great, we're a small school and we need well-rounded people. They also, and this is a fact of two being medievalists and one a golden ager, loved my book project. I knew that all had gone well when one told me that I had answered his question about why in the world I'd want to leave an R1 appropriately and then started to tell me about the elementary schools in the area.
Next, it was the meat-market, or the pig-pen. The big ballroom where a sea of tables, interviewers, and interviewees sit and try to have an intimate conversation at the same time that 200 other tables (so, 400-500 interviewers and 200 interviewees) are also trying to have an intimate conversation—where the person behind you sees whether your interview is going well or not and either curses their fate or gloats… where when you get up from the table you try not to look the person swooping in behind you in the eyes, lest you show your competition the vulnerability and pain of your own soul. I had interviewed with this school before and one of the persons overlapped. This time around it was radically different. Granted, a colleague of mine wrote a brief note saying what a wonderful person I was, and how interesting my classes are, and how much I would like to be there, and how sorely I'd be missed; but, she was Jekyll to her own Hyde. Every other word out of her mouth was "formidable." Though, she seemed like she was really into the guy before me, as well.
I must say, I can get pretty crotchety. Like when I was asked over the phone "Tell me about your publication agenda," my first thought before my pathetically rambling answer, which they had to interrupt, was Why the hell are you asking that question!… I wrote a full page a half on that in my packet… ask a better question. (When I told my adviser this, she rolled her eyes at me and told me that with that kind of attitude I'd never leave where I currently am… she's right, of course.) The same went for one of their questions: "How would you organize a literature course in your field?" I thought, "Did you not see that I put 3 syllabi in my packet, complete with course evals?" It's not a that it's a bad question, say if I were a beginning, freshly minted Phid, but as one with 3 years of experience there are much better questions. Granted, part of the performance is to see how the potential on-campus candidate will handle such banal questions… questions like
"Why us?" Uh, because U.S. News ranks you in top 30 of the liberal arts schools? And you have a position in my field that's open?
Or, "are you a team player?" Didn't I ask two of my current colleagues to write you letters? Didn't two of the other other letters, the ones written by non-colleagues, tell you how much I've helped them in their projects? How I cooked a gourmet meal for a symposium that I co-organized? Do I really have to sit here and brag on myself? I mean, beyond, yes, I am a team player, what else do you want me to say?
But, I think that the meat-market experience went well. At least, my wife really hopes so, as that is her first school, despite it being ranked significantly lower than than the other three. It's the town that she likes.
Possibly my top choice is one that is ranked only four lower than the place where I currently have an on-campus. The chair of the department is really bright and the school, which is forty minutes south of the town my wife likes, is really, really good and has great study abroad possibilities. That, combined with a very civilized teaching load make it the top choice for me. The chair showed that she knew, very well, my letter and C.V. and asked the important questions, just with that much more thought put into them than some of the other schools.
My last interview also went well, I think. Though I wouldn't be surprised if they didn't give me a call. And, though it is the most top ranked of the schools, I won't be heart-broken, as, again, it is quite the bucolic setting, and much further away from family than any of the other possible places. Still, I'd really like to see what the students at a college ranked as "most selective" rather than "more selective" (the three other schools) or "barely selective" (the current school) is like. In my letter to all these places, I made a big deal of coming from a small liberal arts school… this school asked me to tell them about the experience and I bumbled it. I couldn't say much about it. But, I wish all candidates there the best of luck, as they scheduled one day of 20 minute interviews for two positions… I'm afraid that all will become a blur to them. I especially feel bad for all those who followed me, as my interview with them went over 15 minutes and they had only allowed 5-10 minute intervals between interviews.
In all of this, of course, I feel extremely lucky… and extremely bad for all those blokes in English, Italian, French, and German who are much, much smarter than I. I'm getting all this attention only because my Foreign Language is growing by leaps and bounds and mediocrely intelligent persons who have had the luck to have fooled a top school into giving them Phids can have something close to a pick of jobs.
Which, leads me to a reason for getting out of here that I didn't tell any of these schools. It looks like a PhD is inevitably on its way here… and I just can't ethically be part of a program that only has a PhD for cheap labor and reduced teaching loads… as none of our grads will ever get a job beyond High School, at least for a really, really long time.
Comments