i have the unique feeling that the kids in my class that haven't had me are reeling and wondering, can we get out of this class?
we are still reading the boring hisory text, which isn't that boring, but still.
today we talked about columbus.
and i told them that he lied in his journal, that he didn't land in the bahamas, like everybody says but in the lesser antilles.
and we talked about the antipodes and the men with no heads but faces in their chest and men with tails and columbus' belief that he was sailing to asia to hand out with the samuri but finds a bunch of naked fishermen.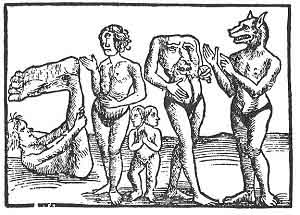 we talked about california being an island, about the bay of pearls that was named such because it was hoped that it would have pearls
about medieval maps vs. renaissance maps, sextants and quadrants and astrolabes and about language and empire
in the end, we talked about perception and reality and whole bunch of interesting stuff that wasn't going to be on the test, because i'm not testing them over the history and few, at the end of class, picked up their syllabi and leafed through it with faces that said… how much more of this can we take?
Comments