We're gonna work backwards from Book VIII in this post. And, I will focus on what and how Augie reads… which means, I won't deal with questions of the nature of evil, Christology, or the immutability of God.
Sorry it's so long, but I thought if we did several chapters we'd move this thing along. Also, we are off to see T's grandpa… so we will be out for a while.
The Confessions is written from a double perspective. It is written from the vantage point of one who is already a recognized Church Father: in 396 he was the named as the bishop to succeed the current bishop of Hippo, in the year 397-398 he penned his famous Confessions. Though this vantage point is important, it is simply the structure of all autobiographies. You write your life from where you are—always looking back over your shoulder. He has chosen to structure this looking back as a confession. Consistently, he lifts up his writing and his life to God, alternately praising God for what the Creator has done in his life and confessing to God his sins and frailties. (e.g. BkV, v, 8 "It is a piety to make confession to you.") However, the culmination of the book is Book VIII, Augustine's conversion. Book IX ties up loose ends… and Books X-XIII are theological in nature. Delving into such weighty matters as the nature of memory, time, and how to read Genesis 1-3. Augusitine's conversion provides the second and more important perspective.
Augustine's conversion story is, I imagine, a well-known story. It was, at least, a very, very well known story throughout the Christian age in Europe, with a myriad of pictorial representations of the Augustin's garden conversion.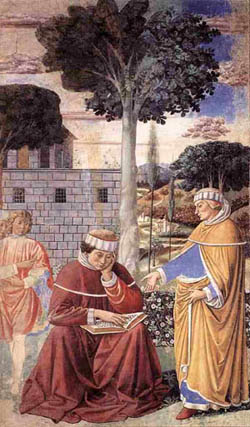 He went out to the garden to think; heard kids playing a game tolle lege and understood this to be the voice of God telling him to pick up the scriptures and read. He interprest their song as God speaking to him, telling him to read the Bible. He picks up the Holy Writ; opens it; reads from a passage from Romans; and, voilá, boy's got religion!
This is not, however, a simple story… nor is it the first time Augustine has picked up and read. In fact, the entire book can is a history of reading. Where he not only moves from reading "worldly" texts to "spiritual" ones, but where he learns how to read the Bible. He is misled by his childhood education. These texts inflame his passion for something that is not only "base" but isn't even real. Next we see him moved, even to tears, by Cicero's eloquence and something in his writing communicates to him on a deep level… but he does not know what this is. (His later self recognizes that it could be intimations of immortality, but also recognizes that Cicero, a pagan, only partially knows what he, Augie, fully knows.) This encounter with Cicero and the reporting of this encounter is extremely important, because it sets the groundwork for Augie's later brushes with Aristotle, and more importantly with the Platonists. His resistance to Scripture is that it is written in a poor style and contains possible fables. (Natural philosophers and such contradict Scripture with their knowledge of the world… and he is inclined to go with natural philosophers.) Aristotle comes his way, in Book IV, but does little good to him, since his back is turned towards the Creator of nature, and does not know the source of truth in them (Bk IV, xvi, 31). (I am unsure of the chronology here, and am too lazy to work it out, but my sense is that, in real time, he reads Aristotle before Cicero…) If I remember correctly, in his reporting on the reading of Arisotle he mentions that God as the author of truth regardless of where said truth resides, whether Scripture or pagan philosophers. The first time would've been in the Cicero passage.
In Book V, he meets Faustus one of the luminaries of the Manichees and finally begins to move away from them. As Augustine casts it, it is because, aside from God's hidden hand guiding him, the golden tongued Faustus is not a read man… he knows the intricacies of Manichee faith, but has not read beyond this and is unable to dialogue with the works of other authors (Bk V, vii, 12). His desire for more knowledge leads him to Milan. He has heard that Bishop Ambrose is a learned man who can instruct him. Indeed, Ambrose is an eloquent man, and Augustine loves eloquence at this time more than sound doctrine. More importantly, Ambrose is a reading man… and Ambrose as reader deeply affects Augustine.
In Book VI, he is in Milan and encounters Ambrose reading. Ambrose's silent reading and his practice of meditative reading have a great impact on Augustine. It is a curious emblem that Augustine puts before us… a man reading silently… an enigma he feels he must unpack… a riddle that must be read and explained. The reason for Ambrose's silent reading is left a mystery… but in brief passage of Bk VI, iii, 3, the purpose of Ambrose's reading is stated several times… "to restore his body with necessary food for his mind" (the reading/food connection has already been made at least once, Bk V, vi, 10: "Wisdom and foolishness are like food that is nourishing or useless. Whether words are ornate or not does not decide the issue. Food of either kind can be served in either town or country ware."). Ambrose's silent reading is quickly followed by Ambrose's exegesis of the Law and Prophets.
"I was pleased that when the old writings (L&P) came before me, they were no longer read with an eye to which they had previously looked absurd… And I was delighted to hear Ambrose in his sermons to the people saying, as if he were most carefully enunciating a principle exegesis: "the letter kills, the spirit gives life." Those texts which, taken literally, seemed to contain perverse teaching he would expound spiritually, removing the mystical veil." Bk VI, iv, 6.
This form of spiritual or allegorical interpretation reconciles Augustine to the Bible's diction… "The Bible offered itself to all in very accessible words, and the most humble style of diction, while also exercising the concentration of those who are not 'light of heart'." BkVI, v, 8. From Ambrose he learns not only allegorical exegesis (something that will become the mainstay of Christian hermeneutics—and, if one takes the Hagar/Sarah story of Galatians in this way, has always been a central reading practice of Christianity), but also the relationship between personal piety and reading. Ambrose reads to feed his spirit.
In Book VII, he encounters the Platonists. I tend to think this regarding his early comments about Greek. Finding in these books true philosophy (in fact, much of Augie's philosophical/theological ponderings are reworkings of Plotinus… the whole God who is everything, in everything, exceeds everything, contained and uncontained, etc. is Christianized Platonism.) (These Platonists, it should be remembered—though for that we need to have read Book 8—were translated into Latin by Victorinus, a Christian, Bk VIII, ii, 3). In Bk VII, vii, 15, Augie allegorically reads the spoiling of the Egyptians by the Hebrews as an endorsement of Christians taking from pagans good philosophy and excising their polytheism. It is a beautiful hermeneutical circle: his hermeneutical praxis validates his hermeneutics, reading allegorically justifies reading allegorically.
It is reading, and reading good books, which return Augustine to himself. Bk VII, x, 16, "By the Platonic books I was admonished to return into myself. With you as my guide I entered my inner most citadel, and was given the power to do so because you had become my helper." This entry into self guided by God provides a stark contrast to how he has spoken about himself in the rest of the book:
Bk II, i, 1 "I turned from unity in you to be lost in multiplicity;" Bk IV, iv, 9, "I had become to myself a vast problem;" Bk IV, vii, 12, "I had become to myself a place of unhappiness;" Bk IV, xvi, 30 "I had my back to the light and my face towards the things which are illuminated. So my face, by which I was enabled to see the things lit up, was not itself illuminated;" Bk VI, xi, 18 "And here I was already thirty, and still mucking about in the same mire in a state of indecision, avid to enjoy present fugitive delights which were dispersing my concentration." Now, with the help of God, he recognizes all of the above "I found myself far from you 'in the region of dissimilarity' (a quotation, so says my notes, of Plotinus who is quoting Plato). And God tells him: "I am the food of the fully grown man; grow and you will feed on me. And you will not change me into you like the food your flesh eats, but you will be changed into me." Bk VII, x, 16
This is key moment in the text, the "dramatic irony," if I can use that term to talk about the difference between the voice of the all-seeing Bishop and the knowledge of the protagonist, disappears. If before, the Bishop makes statements that analyze the protagonists situation, now, the protagonist realizes his own situation: his separation from God.
Now that he knows how to read scripture and now that he knows how to read himself through the aid of reading of good philosophers (the Platonists—with God as his guide), he not only is able to understand his situation, he is able to understand the world: Bk VII, xv, 21 "I turned my gaze on other things. I saw that to you they owe their existence, and that in you all things are finite…and you yourself permanently abide." This history of reading precedes the conversion scene.
Let us now to the conversion scene. He's in the garden, etc. This, though, is not the first garden reading scene of the book, nor is it the first conversion of the book. When I say book, I mean Book 8—because not only can we not forget that books were different then, we can't forget his friend's deathbed conversion in one of the early books… but that is a weak foreshadowing of all that happens here. Book VIII starts off with Victorinus' conversions. The example of Victorinus is important because he is a sympathizer that believes himself to be a Christian… Simplicianus convinces him that only by a public profession of faith and coming into the church can Victorinus become a true Christian. And, Vic "return[ed to God] from a [deep] hell of blindness" Bk VIII, iv, 9. Augie writes: "As soon as your servant Simplicianus told me this story about Vic, I was ardent to follow his example." Bk VIII, v, 10.
While staying at the house of his good friend Nebridius, Augie and his even better friend Alypius were home alone and reading Paul. Ponticianus, a friend of N, comes to visit. Glad to be among fellow Africans, he sits and notices that they are reading a book by the Apostle Paul. He confesses that he is a Christian and they converse. Ponticianus tells them the story of Antony the Egyptian. Antony became a hermit after the death of his parents. But the true example that Antony sets for Augie is the manner in which his decision to leave the world came about. Mulling over what he was to do, now that his parents were dead, he thought of the examples of the Apostles and how they showed their faithfulness to God. In this reverie he entered a church, where the reading for that day just happened to be "'If thou wouldest be perfect, go and sell that thou hast and give to the poor; and come follow Me and thou shalt have treasure in heaven.'" Upon hearing this, he concluded that it was God speaking to him and he went and obeyed scripture. (I, 2 of the link above).
After telling them this story, Ponticianus tells his own story of conversion: of how he and his friends happened upon the house of a hermit, while they were off in the country for a stroll, read a book and were converted. On the table in the hermitage, they found the book of the Life of Antony; read it and "experienced a conversion inwardly where only [God] could see" Bk VIII, vi, 15. All four friends and fiancées dedicated themselves to God. (All the stories of Book VIII are not just about conversion but about people giving up things for God: worldly ambition, society, marriage, the flesh.)
After hearing of these three conversions, after reading Paul with Alypius, Augie thinks over what he should do. Struggling with this decision and torn between his desire for God/wisdom and his fleshly concupiscence, a word in tension with itself., he wanders into the garden. There Lady Continence appears and speaks to him. Distraught over what to do, he flees the presence of Alypius and throws himself under a figtree to cry alone (think of the stolen pears, the forbidden fruit of the Garden, the figs of the Manichees). Weeping, he hears the kids singing Tolle lege. He picks up the Bible and behold a passage that applies to him. The passage is from Romans (most likely the Pauline book he had been reading in the house). And, it speaks directly to his problem of continence… "Not in riots and drunken parties, but put on the Lord Jesus Christ and make no provision for the flesh in its lusts" Romans 13: 13-14. This is the balm he needs. He goes and shows this passage to Alypius, who knows of his struggles and has, except for the figtree scene, been with him throughout the whole garden experience.
Augustine has finally, through the example of many, learned how to read Scripture so that it applies to himself. He has also learned how to read himself.
Comments